Good times were had by all. The Wombat (aka Josh) joined Evan and myself as I preached at FOCUS in Launy FOCUS last night (I preached there last week).


The trip up wasn't hugely eventful... so I pulled a better face than
last time.

I chased a sunset for my girl...
Discovered I have really bad dandruff... but only after eating a baguette
I've talked about Wombat (aka Josh) before. We spent time together on
TLC
and the
Gameshow camp
earlier in the year. The Wombat or "The Bat" (as he calls himself always in third person) is a self described rare beast. His obliteration of the English language is enough to send truckloads of Americans into a spin (or leave them very confused). Let me give you just a sample. Mowbray (A suburb of Launy) is shorten to "The Bray", "Evan" somehow becomes "Bevan", I become "The Jolly", deep fried filth is known as "Mung", and Mark Driscoll is known as "The Driscoll".
Following FOCUS our evening culminated in the Bat demanding "An icy cold Coke from a can". Here he is on the prowl in Woolworth's.
He wasn't happy when all we could find was a 600 ml plastic bottle.
"I want the taste of
the can
on my lips... I thought I made that clear! ".
But we talked him round and he was all smiles for the ladies who read my blog.
We had some good chats late into the night... a very very late night (At Timmy G's house) and came back this afternoon making a short detour back to collect some books that were forgotten. Thanks to Evan and Wombat it was very definately a road trip to remember.
tags christian, focus, friends, ministry, pictures
It was good to be able preach the same sermon 3 times over a couple of days. I felt this sermon was good (at least the subject matter was)and generally I was happy with it. It wasn't boring or to long (the first few I did a couple of years ago suffered from this).

FOCUS Hobart had a good turn out considering it was the last week of Uni. Tuesday probably had the best vibe with Damo and I making real coffee. Wednesday went well also with another good turn out. That evening we traveled to Launy (see above). I really like the vibe there possibly especially because it's in the evening. It was also nice having a decent amount of time to hang out before and afterward (and eat). Most encouragingly an old window cleaning mate of mine (see left) who now studies nursing was in attendance with his lovely wife and kid.

Being my own biggest critic I wasn't 100% happy with my understanding of the texts I used. This was simply because I didn't spend enough time in the Bible reading it before I started writing.

I'll have the talk uploaded soon for those who want to listen.
tags christian, focus, linkage, ministry, shameless self promotion
I now have two more sermons to deliver in my busy downhill run to the end of semester. Please keep me in your prayers. I'll be again up in Launny tomorrow night.

Secondly Sam Green (my boss) is debating a Muslim Professor tomorrow afternoon in Wagga NSW. This guy who is a member of the Prime Minister's Muslim Advisory Council (in other words he's a big gun). Please pray for Sam that he'll defend the exclusivity of Jesus and Christianity with love, patience and respect.
tags christian, focus, friends, ministry, update
Thirdly for the Christian as you age and outwardly waste away, you inwardly become renewed to be a person more and more like Christ. These older people have an amazing love for the Lord.
Old people of Richmond you get a Christians I respect award.
tags christian, christians i respect, church, ministry, pictures, update
This is becoming a bigger and bigger issue and not just for Christians.
See these reports in the SMH here and feature article here. Thanks to Craig for the links.
tags christian, ministry, thinking
Too many gratuitous hangings
Too many explosions
Too many special effects
Too long
Too much feminazi Kira Knightly
Too much Johnny Depp
Too much weirdness
Too much stupid monkey humor.

Too much and just not that good. Wait for the DVD.



This idiot really sums it up for me. (He had a penguin on his shoulder) I give it two stars plus one for the guy with the penguin, over to you Margret...
tags stupid award


June 21 - Christine says blokes write gushy poetry when in love ? I reply with some of my own... and she comments.

Don't hide your true nature from the one you love. Blog the worst pictures you can find like this one.

Girls love a man with a plan so I post My 5 Year Plan and My 5 year Plan part 2
then an update in case she missed it the first time.

Then there was the clincher (and it was my idea). Christine and I did a co-post having stayed up for about 8 or 9 hours chatting on MSN (we then shared a sun rise see above). I wrote What women want Christine did What men want. With a whopping 52 Comments this was one of my most popluar posts ever. Interestingly an anonymous commenter wrote;

"all very well to think you know what women want, but can you be that person?"
I guess the answer (for Christine) is a very definite 'yes'.
I then took some time away to think pray and reflect away (during MYC remember the chat Damo?)... it doesn't hurt to show you have a sense of
humour.
14th July - Having finally gotten Skype I asked her out at the end of our first conversation. We talked for about an hour or so and then she had to go... so I just asked her.
We took it public July 25th
Great Explanations.
I've said this before and I'll say it again. I'm very grateful to all the people who have commented supported and prayed for Christine and myself right through this last year. It's my prayer that in our relationship you can see something of God's amazing wonder and glory in bringing us together in such a seemingly random way. God isn't random. To him be the glory.
tags blog, christine, linkage, shameless self promotion
Tim and I had a great trip up in the car. It was a bit boring so we posed for shots.


I think Tim looks the better here.
We got to Launny at about 5:30pm and grabbed this shot. I think Launceston is a nice place (not a hole).


We found the Uni pretty easily. The Launny FOCUS guys/gals were friendly and welcoming. I did my short sermon then we hung out for a while and got to know them a little more. Tim and I finished of the evening with a great talk in the car on the way back to Hobart. So who's coming next week?
tags christian, focus, friends, ministry

The marathon starts this evening @ FOCUS Launceston. Tim and I are taking a road-trip up north where I'll be speaking on Ecclesiastes tonight. Please keep us in your prayers.
Christine gives her links to the old posts on her blog where I began flirting.
(See here)
I promised a while back I'd dig some stuff up from the archives.


The first picture I ever saw of Christine

I must get her attention. Nothing like a sunset (fellas take note.) With a title like Pictures and sunset music... Christine commented;

"*gasp* it's ... it's positively breathtaking! I know that for myself, I often don't trust myself to take a photograph when I'm looking at such beauty. It's as if I think that during the short few moments I have the camera held up to my eye ... I'll miss something ... or that it'll take away from it.
Top Five reason's I'm a Snag...
This one was classic. The ultimate sympathy post
Crisis well sort of...
I also said in this post I'd have to be with a girl for 2 years before getting married... *cough*. Oh and Christine, she commented...
several
times.
And next rolled out
another
sunset in a subtle post called
Sunrise...
and she commented but it was only because I called her a Christian Feminazi in my sidebar links.
*Edit*
(
Part 2
)
(
Christine's Story
)
tags blog, christine, shameless self promotion

See here for all the budding theologians out there... I really liked the conversational style of writing and lack of jargon... but... well I think there are some things missing from this statement...

I've also been watching a few clips of the Nooma DVDs on youtube (here). Again I really liked the casual style and way they are filmed. Rob Bell has a great relaxed (non wooden style) that puts the viewer at ease. He also has many good things to say and there is so much to like... but I think like his statement above it's the things that aren't there that speak loudest.
I am thinking about Rob Bell and Nooma DVDs... what is it I don't like about them?
I am thinking about Ray Comfort, Kirk Cameron and The Way of the Master...
I am thinking about the World View Survey for FOCUS next semester.
I am thinking about how to get more people to FOCUS Mid Year Conference.
I am thinking I really need to practice those talks for this week.
I am thinking I'm going to get my room all packed up as much as I can.
I am wondering what can I do to help encourage people more.
I am thinking can I start another Bible Study at another Residential College?
I am thinking about Calvinism and Predestination.
I am thinking about Colossians .
I am missing my lovely almost wife.

Right now I am thinking it's very late and time for bed...

What about you?
tags shameless self promotion, thinking

I watched well know author and atheist Richard Dawkins on the ABC tonight. It was the first part in a two part series called The God Delusion.

I caught most of the episode. I watched as he interviewed Ted Haggard who ironically lectured him about being arrogant while using a most arrogant tone himself. Haggard later kicked him off the Church premises and Dawkins walked away looking like the atheist martyr. In fact I was impressed with Dawkins ability to really play the "atheist martyr" throughout the episode.

The editing and film was clearly set up to be sympathetic to Dawkins' view. I noticed they cut to a picture of a Greek Orthodox monk being really rude on his mobile phone at a particularly pointed moment.

I was most unimpressed with Dawkins' straw man of Christianity and Religion. Further more he seemed to go to all the wrong people to talk to. For example a young, arrogant fundamentalist Muslim, or the anti evolution, all George bush loving, Ted Haggard. It's very easy for Dawkins to lump these dudes together into one "religious" basket (or straw man) then play the tough guy as you beat the crap out of it. Consequently I found myself agreeing that if all Christianity had give me was Ted Haggard I'd hate religion too.

Dawkins also constantly drew a distinction (false dichotomy) between faith and reason, as though abandoning "faith" and trusting reason was all people needed to find peace and happiness.

It's is such a shame that Dawkins didn't interview anyone who could lovingly explain the gospel to him... but I guess if your mind's made up you'll only find those who affirm rather than challenge your beliefs.

*UPDATE* Sydney Morning Herald report on last nights Dicky Dee episode.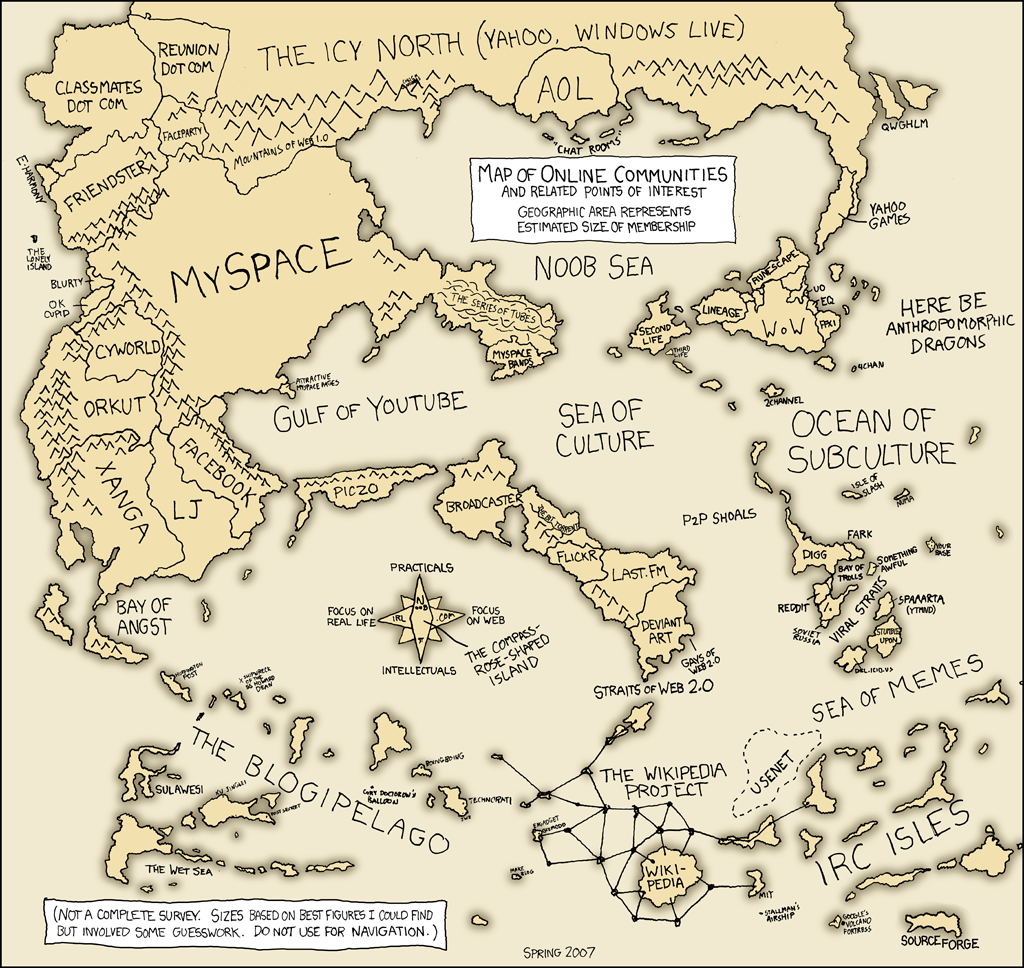 Leading on from my post earlier in the week Craig S has some great thoughts on blogging and the importance of online communities. If you are cynic when it comes to blogging/myspace etc rather than a fan the link's definately for you. (See here)

Should I get over myself and get a myspace page or should I hold out?
This will be an experimental post. I'll tell the story of my time at Presbyterian General Assembly this morning but to relieve potential boredom I'll illustrate it with pictures on how overhaul my mountian bike (which I did when I got home). Enjoy.


It was a cool morning ride. Mikey, Damo and myself took a brisk ride out to Montrose (Behind the flannel curtain) for the General Assembly (30mins if you please).
It was a... well... experience. I view these things as a sort of necessary evil.
The blokes were mostly grey haired and older (obviously they are elders). One bloke had massive thick glasses AND was using a magnifying glass that would have done Sherlock Homes proud. I felt a little out of place especially in the shorts which I wore to ride out there.
"Mr Moderator I move that we accept motion 10.1.3.4.6.8.4.5 Sub clause 3B"
"Seconder"
"Those in favour say 'I' those again 'No' "
"Motion carried"
At times I had to hide my laughter as some of the people speaking/motions were classic. There were also some delegates who acted a bit like naughty school children which made things entertaining. (I won't name names but it wasn't Mikey)
Although it got tiring at times I didn't mind the experience. I've not really ever been one to complain about church governance. Sometimes one has to work with the system rather than against it.
I also have a new-found respect for a number of the decision makers in the Presbyterian Church in Tassie.
tags christian, church, pictures, shameless self promotion

The Good... (and awesome)
I finished this book in about 2 weeks.
I really enjoyed it mightly. I wholeheartedly recommend reading it and buying it. The book looks at the growth of Driscoll's church Mars Hill from nothing to a church of 4000.

Driscoll's candid and humorous accounts are laugh out loud funny. Chapters with headings like "Jesus could you please rapture the charismatic lady who brings her tambourine to church." and "Jesus if anyone else calls my house I may be seeing you real soon." and stories of pooing his pants while preaching... then finishing the preach (that's dedication).

When I finished the book I was left seeing a person who wasn't afraid to admit thier failing and short comings in growing and maturing as a Christian. Throughout the book I was impressed that each time Driscoll was presented with a crisis it drove him back to prayer and the word of God. This is a great example in a society where we rush in the changes at the first sign of problems.

A side note for the anti-emerging church people. It would be a shame for people to write off Driscoll as "part of that dodgy emerging church bunch". In fact Driscoll is heavily critical of many liberal elements of the emergent church including Brian McLaren. Note that all this is done with respect and love.

Cautions I have...
Call me old school but I'm not totally convinced of the mega church model that he's keen on.
I also still need to do some thinking about Driscoll's Missiology which I'm still not sure about. His style could be off putting for some (perhaps older) readers which is a shame because what he says is definately worthwhile. Ironically however it's his slightly irreverent tone that really kept my attention through the book and will appeal to many.

Two thumbs up for Driscoll's Confession of a Reformission Rev.
... staring Pipi


I hosted possibly the most disturbing party I've ever been to tonight. As many of you know tonight was the replay of the Eurovision song contest. There were a number of famous bloggers present in costume Shiloh, Pryderi, Jerome. In all we probably crammed about 25 people into my house. Agood time was had by all... but I'll let the pictures do the talking.

If you find cross dressing offensive in any way... don't read on. Oh and if you have children around you might want to put them to bed first.


... the Internet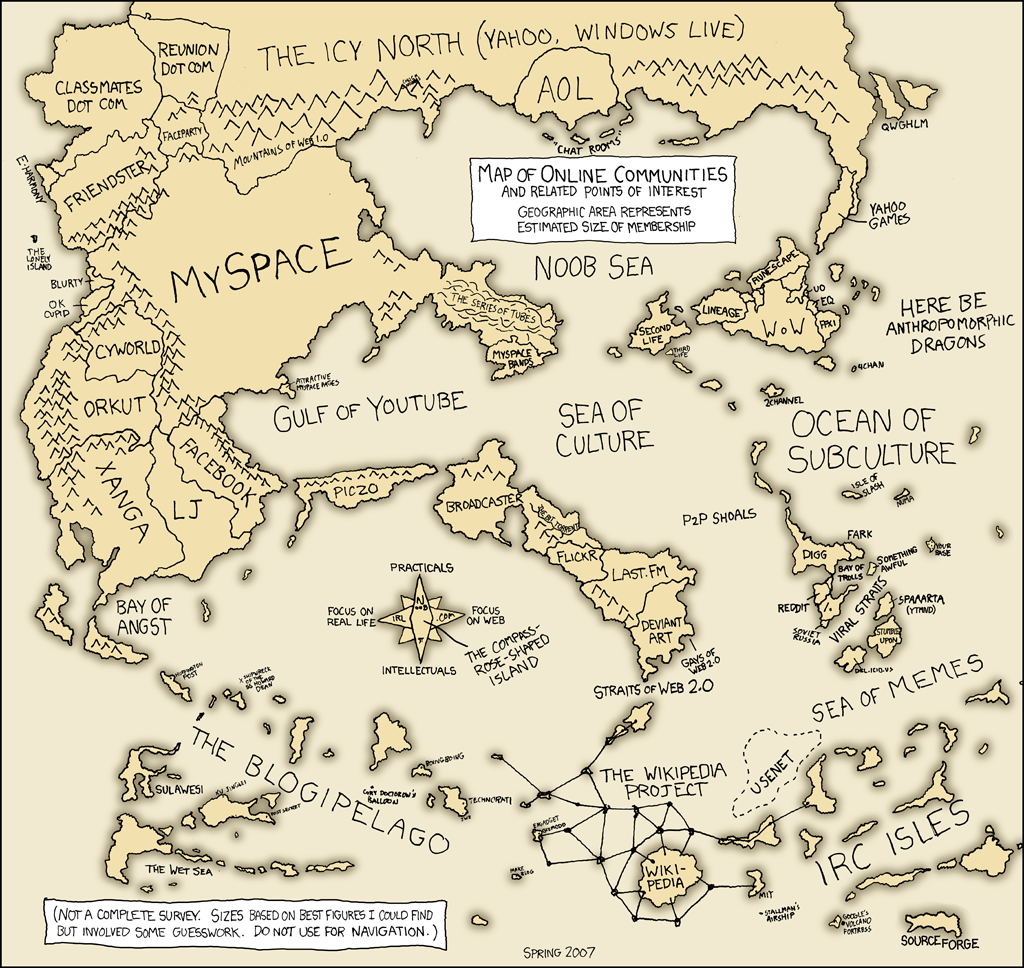 Enlarged at original site here
Cheers Craig for the link.
Renae one of the FOCUS girls blogs about her time at FOCUS and University ministry. It's an encouraging story and of course it's always great to hear how students feel and think about FOCUS.

(see here)
tags christian, focus, friends, linkage
I caught up with an old Uni mate this morning for coffee. She told me enough horrific teaching stories to scare me off teaching for the next few years. Lets just say she worked in some of the more "difficult" schools located in the northern suburbs behind the "flannel curtain".



I then wound my way down the Channel with Keith and Wombat to watch some local AFL footy (Australian Rules Football for you non Aussies). The Channel Saints were playing Claremont*. We arrived in time for the end of the reserves game which included an impromptu fight and biffo after the siren.



The actual game was pretty scrappy. We left before the final siren with Channel lagging badly as you can see from the pic below.



I then completed the day with a ride out on the bike track which ends in the aforementioned suburb. It felt good riding, really good infact. I'm pretty sure my fitness is back up to where it used to be when I was back at Uni. The ride home was uneventful with no close encounters of the bogan kind**. So that was my bogan day off.


*(a suburb located behind the flannel curtain)
**(bogans have been known to attack people on the bike track)
tags friends
This morning I listened to a couple of sermons. It's great to see my Sydney mates pumping out some meaty sermons. Onya guys.


Stan the little man on John 13:1-17
You can listen to it (here) or "right click" and select "save link as" to download it.



Seumas the fighting pacifist on Matthew 28.
You can listen to it (here) or "right click" and select "save link as" to download it.
tags christian, friends, linkage
Ministry Tips as stolen from Seumas

Food before books
People before study
Work before games
Christine before myself
Jesus before everything
Original texts before commentaries
Breakfast before midday
tags friends, linkage, ministry tips
There is a mysterious new member of the Winter Palace Clan.

Now if you aren't familiar with the Winter Palace it is a strange house. It is a house of many stories. I've heard a number of people died there including a girl who hung herself. It was also rumoured the Tarkine Tigers used to have orgies there. More recently it has been inhabited by a large rat. There was one a few years ago but it got run over by a car because it was so fat. It lay flat on the road like a small rug for weeks...

Jonny his brother Ant, Pos and Matt all live there. They are all weird in their own ways (not in a pejorative way). Ant uses the house as a recording studio for exciting and famous people (see here). I spend a lot of time at the Winter Palace and regard all the guys as my friends in fact I almost feel like I live there sometimes.

Mark the Overlander is newest member of the team. He's a very interesting bloke, traveling the world, traversing continents like they were stepping stones on the path of life, making short videos along the way. You can read some more about him here.