Christine gets in on the act...
tags christian, christine, linkage, ministry, ministry tips
It has recently struck me that an increasing number of Christian blokes really struggle with this particular problem. The increasing number of people are getting with broad band Internet means that temptation is just a (very fast) click away. In the near future I only see it getting worse. Now I'm not going to give a convoluted explanation as to why it's wrong. I'm going to assume you know it's wrong, destructive and sinful. So some action points…

Stop... If you are doing it then stop… right now. No ifs or buts. Just stop.
Get accountable... If you don't have someone who asks you about this sort of stuff then get one. Come and ask me or send me an email. I'm happy to help but don't expect cuddles. Start fostering a culture and friendship circle where you can confess your sins to the Reverend one another.
Get praying... Get down on your knees and beg God for forgiveness and ask him to help you overcome temptation. Pray he'll take the images out of your mind and that it can be renewed.
Take drastic action… disconnect the Internet until you learn self-control, get rid of your computer*. Now you might think this is extreme but I have a mate who did exactly that. In a side point his porn problems nearly killed his marriage. Remember Jesus command to cut your arm off if it causes you to sin.
If you are in a position of leadership get preaching about it... Work to make it a non-taboo topic in your church culture and accountability. Start by asking other blokes about it who you meet up with.
*You can get programs to watch/alert others to what you surf upon your computer. I'm not personally a fan because it's easy to find ways round them or else they end up blocking sites you need to view that actually aren't harmful.
tags christian, ministry, ministry tips

7:30am Breakfast Pray and read the Bible

8:25am Talk briefly with Christine

9am Meeting at the Inter Faith Centre with Uni head honchos.

10am Long black in the Ref and chat with David Jones minister of Cornerstone. Generally chew the fat and ask him how he does ministry. Try and learn stuff by asking questions

11:30am Meet one of the FOCUS blokes chat about things from Youtube to Theology.
1pm FOCUS public meeting. Take care of MCing and Prayer. Hang around and chat afterward till…

3pm Meet Sam at his house to chat about FOCUS. Discuss infant verses adult baptism.

4:50pm Damo and I touch base about all things FOCUS and pray.

5:25pm Grab some chips for Committee meeting.

5:30pm Meeting with Committee and grab a lift home with one of the guys

6:30pm Dave and I have one of our mates round for tea. Do some light email and get a few little things sorted.

10pm Head to bed. Read over a commentary for a study I have to run.

11pm Text Christine and turn out the lights.
tags christian, ministry tips, update
Christine has a quiet and gentle spirit but she's not the kind to hide in the corner and not say anything. She always has an idea or an opinion that is worth listening to.

Christine is a submissive but isn't ever a doormat. She is a godly Christian woman and leader of women in her own right. She is easy woman to lead. Even we disagree about things we always reach satisfying compromises. Christine is a Godly person she is passionate about God and people growing in their understanding of God. For a person with out much experience she has a great depth of insight and advice about marriage and relationships. (She has learned many of the lessons I have without needing to make the mistakes).

She is fun to be with and she's never bored to be around. She has a slightly dangerous and mischievous side that likes doing silly things. People commented to me when we were in Australia "wow she's not a loud American".

She is very intelligent and thinks very carefully about the Bible and how to understand it and apply it. She is understanding caring and supportive. She has been a shoulder to lean on when I have found things hard and difficult. She's not afraid to admit when she's wrong and accepts correction with a smile

It has been great to see the transformation in her life over the last 12 months we've been in contact with each other. She has grown in humility, sensitivity and has gown to be more loving and caring for those around her. The hard-nosed snow queen has gone and the wonderful person beneath shines through.

Praise God for Christine
tags christians i respect, christine
Mikey Lynch is the pastor of my church. He has a blog where he puts some of his more intuitive reflections and observations from time to time. I particularly like this recent one. Here's the first bit to tickle your fancy...


The Gen Y crowd are apparently individualistic, self-absorbed, naively optmistic, incompetent with basic life skills and non-committal. They are the STABO generation (Subject To A Better Offer). They can be berated for letting church down by not commiting to ministries, not signing up to conferences soon enough.

There's plenty of truth to this no doubt. At the very least, these sins are to a certain extent common to all people. But what might be said to balance things out? Well I've just got two things to get the ball rolling...
(
more here
)
tags christian, linkage, ministry, ministry tips
On Christine's Seminary

tags christian, christine, travel, video
The view from the top... from those who made it to the top.


tags christian, shameless self promotion, video
Tassie wins Cricket's Pura Cup... (here)



Bad luck to all you NSW people. We wooped you soundly... Congrats to the Tassie fellas.
The trip to Maria Island began well..
Yes that is a sleeping bag floating in the water... not mine


I slept in a tent with Kieth. He's a top bloke. Much respect.
Most of the other kids were in the main building.
Below Keith and Marty demonstrate "high fives"
Wildlife was abundant... for the Americans
It was challenging and enjoying time.
Kids were much more distracted than the ones at Emmanuel. It was also made more difficult with most of the students not having their Bibles. I had to work hard to hold and keep their attention. Having said that the majority of the kids listened the most of the time.
A few of us managed to grap some time for an awesome walk as well...
Give thanks to God for a great time and for a great oppotunity for these kids to hear the gospel.
tags christian, friends, pictures, update
This Wednesday, Thursday and Friday I'm off on another camp doing some kids talks again.
This time I'm doing them for my old school Calvin with 70 grade eight students. The irony is that I taught quite a few of them on my last teaching prac back in 2004.

For the Gameshow camp (as we imaginatively call it) we focus on a Gameshow each day with the activities revolving around the theme of that Gameshow. In the evening my talks are then tied to the issues raised during the day. It runs something like this...

Day 1 Wheel of Fortune (Luck and Chance)
Day 2 Millionaire (Skill and Ability)
Day 3 The Bachelor/Bachelorette (Relationships)

It will be be a challenging time. Please pray for myself and the other duders from Kingston who'll be organising the games. Pray we can all have the energy to get through the camp. That I can speak clearly and faithfully in a way which is relevant.
Tasmania is into the (Cricket) Sheffield Shield final and plays New South Wales over the next
five days. Tassie has been in the final before but hasn't won. This time we are hosting the final which gives us the advantage (theoretically). We also handed NSW a decent flogging last time we played them.




Jerome, Rob and I managed to catch the last couple of hours this afternoon. After loosing early wickets we fought back well to be 7/283 at stumps (more here). While watching I managed to make the last of my adjustments talks for the camp later this week.
tags friends
In a vain attempt at "audience" participation and vainer still attempt to grasp for blogger stats better than Christine's, I have hatched the following poll... Is it time for a new look supportMIKE?

You can now vote below for one of the following*

supportMIKE BETA 2.1

supportMIKE BETA 2.2

Option 3 No change.

*Please no anonymous votes use a pseudonym.
tags blog


Lots about social justice and a bit of God. Not much about Jesus the death and resurrection. What do you think?
Damo and I decided that IBM (International Bible Ministries) our international students work was best served by a blog. So then proceeded my search for a blogger template that I actually liked.... and... well you can see the result here*. I choose the colour scheme myself and I reckon it's simplest cleanest template blogger has. It's also not too difficult to choose some colours that actually match without clashing. I'm thinking of changing my blog to look like this. What do you think?

* Yes we are working on content
tags blog

I bumped into my old school friend Nat the other day at Uni. I've been following her progress over in the USA where she has been for the last few years. She stumbled over my blog some time last year. She was in Oz for her Grandma's funeral. We had a good old chat even though her accent was... well... American in patches.

She has found a good church which sounded fantastic. It's really encouraging to meet people who used to go to Calvin (my old school) who are Christian and are still involved in church.
tags christian, friends, travel

Sandy Bay Mums (and Dads) and their four wheel drives get a stupid award for parking all over the nature strip on the corner outside the Hutchins school in their 4WDs. It's probably the most dirt these cars will ever see.
tags pictures, stupid award
Dear Brothers and Sisters

It's been a busy year till now. After farewelling Christine in Sydney I came back and began work straight away. I spent a few days up at a Christian Conference for young leaders in Port Sorell. It was great to get back into some small group leading. My group went really well and had great fun.

This was followed by three short sermons that I did as part of a camp for Emmanuel Christian School. They looked at Ecclesiastes, Song of Songs and Proverbs. They seemed to well with the children and teachers responding positively. This was encouraging as teens are notoriously difficult to engage. I'll be preaching the same talks for another camp later in the month. It's great to have the opportunity to preach evangelistically.

The first FOCUS public meeting for the year was at 1pm Tuesday. This was preceded by a good Aussie style BBQ... there were a few hiccups including no matches to light it! There was also Damon's accident on Churchill avenue with all the BBQ tools tumbling all over middle of the road. In spite of these minor setbacks things ran smoothly. There were a number of new people which I found greatly encouraging. I wasn't feeling my 100% Jolly best but managed to master some form of understandable communication with a number of the newcomers.

In the next couple of weeks I'll be filling my diary with social events and meeting with blokes to catch up, hang out, read the Bible and pray. Another one of my hopes is to try and encourage and build an environment where people can have feedback on the running of FOCUS.

There is a great deal to look forward to this year. I'll be preaching at FOCUS and later in the year at Crossroads. I still have to choose what to preach on. More thought and prayer for this appreciated. In the middle of the year I'll be getting married before heading back home in time for FOCUS' Mid Year Conference.



Some things to pray about in the medium to short term include; that I'll be accepted by the blokes (and girls) at FOCUS as part of the team. That I'll continue to be a Godly example to the students. That I'll learn to be humble in my role as an apprentice. That I'll be able to raise the necessary funds for the year. I'm approximately half way to the goal of $20,000. Please feel free to contact me if you have any advice, thoughts or questions.

Thanks once again for you prayers and support
Cheers in Christ
tags christian, focus, shameless self promotion, update

...is engaged to her boyfriend Dave. But you'll only read about it here bloggers as she's having a blogging sabbath till Easter.

Sherrin deserves the Christians I respect award for the amazing transformation I've seen in her life over the years I have known her. Back at school she was a pretty horrible person whose life was as rebellious as they come... but she came to know Christ and began to change. It's a pity people don't realise just how dramatic has been the change in her life. It has been a great source of personal encouragement to see just how much being a Christian has transformed her.

Praise God Sherrin you are most definately a Christian I greatly respect.
tags christians i respect, friends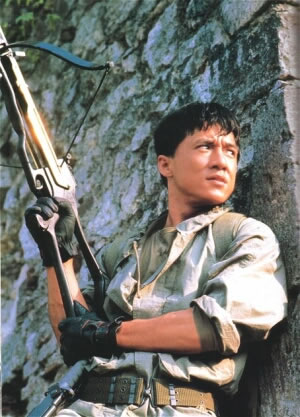 Getting blokes to hang out can be difficult... but not when Jackie Chan is involved. Friday night was Jackie Chan night courtesy of my old flatmate Tim. We invited a bunch of FOCUS guys and girls along.

Chan's Armour of God is famous because he almost lost his life doing one of the stunts. It was great to watch a film where it is ok to laugh out loud at the daggy bits and appreciate old school stunts where actors hadn't heard of occupational health and safety. In any case the highlight was an overturning 4WD sliding down a set of stairs with people running in every direction... how they didn't get hit I don't know. If you like action and Jackie Chan you can't go wrong with this film, (four stars).

Dragon Fist was more the Jackie Chan purist movie with awkward (American) voice over interspersed with some awesome fighting sequences. All in all an entertaining nights viewing and some great fellowship.
Thursdays are MTS training days. This means I spend an hour or so working with Mike and all the other MTS duders (Keith, Wombat, Fiona, and Damo). Mike always has some helpful and/or useful insight into ministry. I have talked about this sort of stuff before but I thought these took a slightly different spin...

When thinking about people you are discipling;

Who are they? (eg. their name)
What can

I

learn from

them

? (Learning is not just about the mentor download.. it's a conversation)
What are you doing with them now? (Reading the Bible, Praying together.. etc)
Where are they at? (ie. Spiritually)
Where do you want to get to? (Goals and aims)
How are you going to get there? (How will you achieve your goals and aims?)
tags christian, focus, ministry tips
tags christian, focus, friends, pictures
Tips to make your emailing life happier.... *

Before you choose a bulk email list ask yourself, "Who's this really for?". If it's only relevant for several individuals on the list it's better to ask them for their addresses personally rather than put an extra email in everyone's inbox.
Emails ain't for everything. Ask yourself if a phone call or face-to-face would be a better way.
Avoid relying on emails to communicate. Email is unreliable for (at least) three reasons: people change addresses regularly; people don't check their mail frequently; people are less likely to act on something that they've only heard about via email.
Beware of sending emails when you're feeling particularly angry, hurt, etc. It's always best to wait until you're calm and have a bit more objectivity before you click 'send'. (Honestly, wait a couple of days!)
The subject should be meaningful: make it descriptive of the purpose of the email.
Short paragraphs and short emails are more likely to be read.
Consider 'filtering' your email so that your inbox doesn't become buried in emails. Most email systems offer 'filtering' a way of sorting bulk emails directly to a given folder – check your help files if you're not sure how to do it.

*(as stolen from recent Crossroads email)
tags church, ministry tips
God will save people with or without good advertising. Having said that...

If something is worth doing it's worth doing well. This applies to advertising and tracts. There are to many bad daggy Christian adds and fliers going around. I personally think that many tracts are a waste of time if they aren't written and presented well as people will simply bin them before even reading past the first paragraph.

Christians notice when you have bad daggy fliers. Maybe you don't personally but be assured there are others who do. It doesn't take much to think through how to put together a good flier that is simple yet effective. This helps build pride and credibility in the thing that you are advertising.

Non Christians notice when you have daggy fliers. Maybe you don't personally but be assured there are others who do. This can be a turn off for a reader... before they have even engaged with what you have written.

Better to keep it simple than go overboard with things like word art, clip art and multicolours in text headings. Much can be done with just using black and white and using a single font (Not Comic Sans). Again don't use to many different fonts otherwise it will just look bitsy.

Too many fliers have a judgmental tone or look about them. Fliers on issues such as homosexuality, abortion and politics need to be especially careful of this. Here is a quote from Amanda Lowery (who isn't a Christian) in the Quarterly Essay's - Voting for Jesus,

"The cover of this booklet had a large grey iron nail pointing down into a lurid splatter of blood... [insert name of tract] immediately the teacher in me wanted to remonstrate with them over their ambiguous phrasing".
For clarification I'm not a fan of getting a marketing company to organise advertising for you. Folking over truckloads of money is not my cup of tea etc. God has wonderfully gifted the people in his church who should be encouraged and happy to help out free of charge.
tags ministry tips
There is a new campus Christian group @ Uni. They have been marketing the Alpha course all this week (Complete with Grim reaper costume). I've never been a big fan of the Alpha course but I thought I do some research.

I came across this interesting article on Alpha on Wikipedia*. I was surprised particularly at the the extent of Charismatic slant in the course...

"the most controversial element of the Alpha Course is its charismatic slant. Heavy emphasis is given to the person and work of the Holy Spirit, and being filled with the Spirit; speaking in tongues and Faith healing, healing via prayer are introduced as practical gifts from God. Conversion stories in the book of Acts are seen as normative."
I was also disturbed by this ...
The Bible is described as "divinely breathed" (2 Timothy 3:16), although whether this view of scripture implies strict inerrancy is not made clear. While certain moral injunctions are deemed relevant and binding today, other controversial aspects of the Bible message are not subjected to a literalist interpretation.
Most unhelpful was the
brushing over
of differences between Catholics and Protestants. It's a pity the courses with widest appeal are often the ones with the unhelpful, vague and foggy theology.
*Yes I am aware of the limitations of Wikipedia articles.
tags christian, focus, linkage, ministry
With the smaller church the emphasis moves away from the individual home groups and Bible Study to the gathering of the church on a Sunday. In effect the Sunday meeting is "church" this is where people meet and "do community". Therefore it is vitally important to get the
whole
church away and "hanging out" working together as a family (especially on a camp).*
*In the past our church camps have involved vast seminars and Biblical surveys making your head spin and leave you needing a week to recover. Now while I believe these style of camps are beneficial they don't always achieve the purpose of "doing community" rather they serve to train and equip.
tags christian, church, ministry, ministry tips

This Book... coming to a bookshelf near you.
A Christian's response (see here and download here )